The Town of Lincoln, with funding from the Government of Canada, is investing in the necessary infrastructure to charge electric vehicles (EVs). This project will improve zero emission vehicle infrastructure in the Town of Lincoln, by enabling the installation of electric vehicle charger connectors and providing infrastructure for future electric fleet vehicles.
Timing
Staff will present a recommendation report to Council in Summer 2023, with installation and implementation of the EV chargers expected in early Fall 2023. 
Future Locations
We are developing a plan to install EV charging stations across Lincoln, in the following locations:
Locations and number of charging stations at each

| Location | Number of connectors (Level 2) |
| --- | --- |
| Jordan Village Public Parking Lot (3763 Nineteenth Street) | 9 |
| Municipal Administration Offices (4800 South Service Road) | 4 |
| Rotary Park (5020 Serena Drive) | 4 |
| Vineland Public Parking Lot (Victoria Ave and Tallman Dr) | 2 |
| Charles Daley Park (1969 North Service Road) | 2 |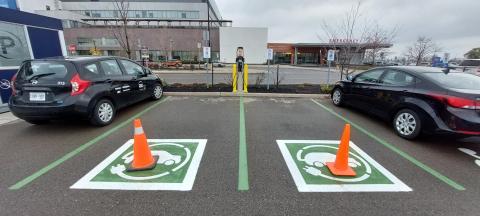 EV Charging Station Fees
| Service | Fee |
| --- | --- |
| Level 2 - Electric Vehicle Station Use | $2.50 + HST / Hour |
Notes:
Parking Spaces may be reserved on a first come first serve basis. Hourly user fees will continue to apply if vehicles remain connected after the vehicle reaches full charge.
Parking tickets can be issued for parking a non-electric vehicle in a designated EV charging space and parking an EV in a designated EV charging space that is not plugged in. Ticketed vehicle owners may be subject to a fine of $125 under section 30.2 of the Highway Traffic Act.
Charging stations may be sponsored by private organizations and will be available free to the public as signed.
Overnight parking is prohibited between the hours of 11:00 p.m. and 7:00 a.m. (Town of Lincoln By-law No. 2022-44). However, residents may apply for an overnight parking permit, please contact Town of Lincoln Community Services to apply.
ChargeHub
Across Canada, there are some 5,000 public charging stations, and that number keeps growing. They can be hard to find, and that's where ChargeHub comes in. ChargeHub is an independent, user-verified map, which shows and tracks the locations and operating status of every registered public charging station across North America. It provides user feedback on EV stations, built-in navigation features and search filters to help users find public charging stations on their route. You can access ChargeHub online or by downloading the free app from Google Play or the App Store.
The Town's EV charging stations will be included in ChargeHub. 
Charging Sponsorship Program
Image
The Town is offering an opportunity for local businesses to sponsor public electric charging stations fees on a first-come first-serve basis.
A dedicated sign bearing "Free Charging Courtesy of (Sponsors Name)" would be installed beside the selected charger(s), indicating to users that the business is covering their charging costs. Public charging fees would be invoiced to the sponsor monthly.
For more information on the sponsorship program please contact Cameron Rotz, Economic Development Officer at crotz@lincoln.ca 
Zero-Emission Vehicle Incentives Information
The Province of Ontario has a Green Vehicle License Plate program. The program allows vehicles with green plates to use the high occupancy vehicle (HOV) lane even if you are the only person in the vehicle.
The Federal Government offers incentives up to $5,000 for the purchase of electric vehicles in Ontario.